Notejoy is designed to help you capture at the speed of thought, ensuring you never forget any idea worth remembering. Notejoy enables this by providing many ways to rapidly capture content in Notejoy anywhere you go.
Notejoy's web app is fast, full-featured, and available from any laptop or desktop browser. You'll enjoy the fact that it has the exact same experience as our desktop apps, so you'll always feel right at home. The web app helps ensure you always have access to your notes as long as you have access to a web browser, anywhere in the world.
Most of our power users love using Notejoy's Mac and Windows apps as their primary Notejoy client for a variety of reasons. First, as they are often copying and pasting content to Notejoy from their web browser, it's helpful for Notejoy to be a dedicated window as opposed to just another tab in their browser. They also enjoy that it's always at their fingertips: available in the Dock or taskbar to quickly jump into to capture notes. The desktop app also makes it easier to manage multiple Notejoy windows so you can easily have multiple notes open side-by-side for reference.
Notejoy's iOS and Android apps are the perfect on-the-go companion for capturing notes. Just open up the app, press the big red Add Note button, and start tapping away to get your thoughts captured. You don't even after to worry about where you put the notes, because as soon as you get back to your laptop, you'll find them at the top of your Recent view, so you can process and organize them further there. You can also easily save images from your camera roll to Notejoy and use your phone's built-in audio transcription to capture audio as text.
When you are exploring the web, Notejoy makes it super easy for you to clip any article or web page as a note in Notejoy for later reference. Great for articles, research, recipes, and more. Notejoy's web clipper clips a simplified version of the page to Notejoy, removing all the cruft and focusing on the main content you are trying to capture. You can then go to Notejoy to add highlights, comments, and more. Notejoy's web clipper is available for both Chrome and Firefox.
So often we end up with emails that we wish to save for posterity. Notejoy makes this super easy by allowing you to forward the email to save@to.notejoy.com and then automatically converting it to a note. This is also another quick way to capture notes on the go: just compose an email to save@to.notejoy.com and fire away. Notejoy also offers a Gmail sidebar to make capturing notes from Gmail even easier.
Notejoy makes it easy to capture images and documents as you come across them. You can simply drag & drop the files from your desktop into Notejoy and they'll automatically be uploaded. You can also copy / paste images and documents from your web browser and more into Notejoy. With images, you'll get a thumbnail that you can click on to enter a full-screen viewer. With documents, you'll get a rich built-in viewer for all sorts of file types, including Microsoft Office files, Google Drive files, PDFs, audio, and video.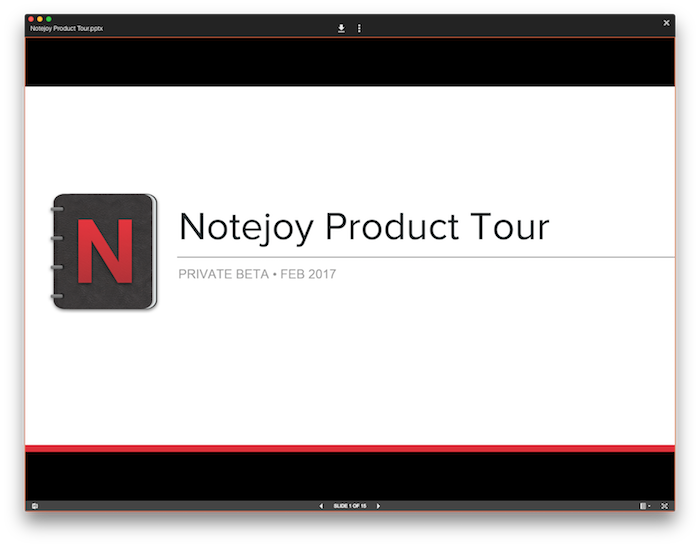 Notejoy also integrates with your favorite scanner apps, like Scannable, Scanner Pro, and Office Lens, allowing you to easily scan a physical document, convert it to a clean PDF or image, and then immediately send it to Notejoy to save as a note.
Notejoy similarly integrates with your favorite audio recording apps, like Rev Voice Recorder and Apple Voice Memos, enabling you to record audio and then immediately save it to Notejoy as a note.
Notejoy integrates with existing apps like Slack, Trello, and HubSpot CRM, allowing you to create notes directly from each of these apps. So if you are already using one of these apps, definitely checkout the integration to see how you can improve your existing workflow for capturing notes into Notejoy.