From internal teams to clients to friends, Notejoy helps your team collaborate and share their best ideas and information. Notejoy was designed for collaboration from the start, with many features and workflows to enable discussion and productivity without ever leaving the app. Work in Notejoy happens in real-time, with edits, comments, reactions and more synced in real-time as your team works in the app.
Get started with team libraries
Team libraries are the heart of team collaboration within Notejoy and are designed as a quick and simple way to share notes with your team members.
A team library, which can contain notebooks and notes, can be shared with anyone inside or outside of your organization.
To create a team library, click on the drop-down next to the Add Note button at the top right.
To share a team library, right-click on the team library and select Share. You'll see a list of people who currently have access and have the option to add more. You can invite addition team members here, as well as manage what permissions they have (view only, comment only, or full edit rights).
After you successfully invite someone to a team library, they'll be able to create a Notejoy account and see the library you've invited them to. All content within this team library will be shared and synched in real time, so they will be able to work with you to add and edit new notes over time.
It's important to note that they'll see only the team library that you've invited them to, and not your entire collection of team libraries. While your Notejoy dashboard may show multiple team libraries, theirs will only show what you've given them access to.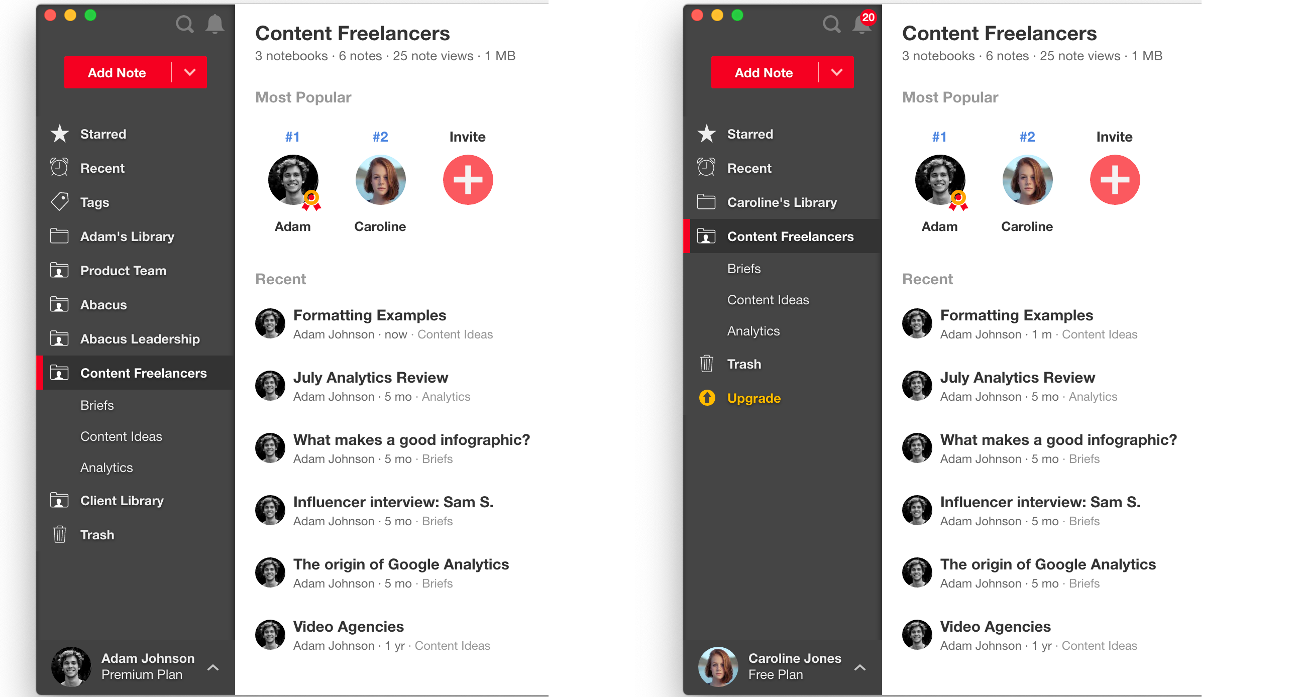 Example: Adam (left) has multiple team libraries and has invited Shannon to just one, Content Freelancers. Shannon (right) only sees the one library she's been invited to.
Make a team library for every group
Team libraries are a flexible solution that allow you to collaborate across groups. When you share a team library, you can invite any combination of people: your entire domain, people within your company, and people outside of your company. You can have multiple team libraries with a mix of people from these groups.
Domain sharing
When you enable domain sharing, you set a team library to be automatically shared to anyone who shares the domain your account is linked to. So if your email is from @companyx.com, you can ensure that anyone with a @companyx.com email that signs up can automatically get access to the team library.
Many teams leverage domain sharing in Notejoy as a way to create company-wide resources that everyone can access. They fill it with policies, procedures, quick facts, glossaries, how-to's, and everything else you might expect, using it as an easy to use company wiki alternative. When new members join the team, they'll automatically have a Notejoy interface that's populated with the resources that they need to get started.
Internal team collaboration
You can also share Notejoy team libraries with a subset of people inside of your internal team, such as projects or internal teams that are working together. For example, the Customer Success team at a company might have a team library that is available only to members that are part of this team. It becomes an internal reference that only those team members can see, while the rest of the company doesn't have access to it.
Another example might be an internal data research project comprising a cross-functional team of researchers, data scientists, and marketers. Even though they are not all on the same internal team on the org chart, this group can spin up a team library to collaborate in one shared space together. And some team libraries can be even smaller, like a team library with just yourself or with another person to manage smaller projects or even 1:1s.
External team collaboration
Notejoy makes it incredibly easy to share with people outside of your company. You can invite anyone via email address into a team library, even if they are outside of your domain. This makes Notejoy a powerful tool for agencies, freelancers, and contractors to collaborate with companies.
For example, it would be easy to establish a team library to manage every client. The members of the team library can be a mix of internal and external members, such as the internal account team tasked to that client and the client themselves. This creates an easy to use and always up-to-date repository of information for the client to access.
Pro Tip: Drag and drop content between team libraries to easily share
Many people have a workflow where they create an initial draft, then share it out to a smaller group, and then publish it to a final version. Notejoy makes it easy to support this. In addition to creating team libraries where you can share notes with each other, you can also drag notes and notebooks between team libraries to easily "publish" them into a new group when it's available. So you might create a team library with just a few people to get the first draft together, and then drag (or duplicate) the finalized version to another team library where more people have access.
Start a conversation with Notejoy
Notejoy makes it easy to collaborate on notes with discussions, @mentions, and reactions. After you've put together the content of your note and are ready to share with others, you can leverage Notejoy's collaborative tools to get the conversation started.
Threaded discussions
Each note has a Chatter area on the right-hand side, which you can open up by clicking on the sidebar tab. When the Chatter is expanded, you can see the discussion that's taking place on the note itself. The comments on the note can be standalone for the note, providing high-level commentary on the content inside, or they can be highlight comments that are tied to a specific piece of text.
@Mention to bring the conversation in
When you leave a comment, you can always start with an @mention.
Mentioning sends the other person a notification to bring it to their attention. An @mention might simply be their name, or it can include an additional comment. This is a quick and lightweight way to let someone know that you're ready for their input.
Reactions
If you don't have a lot to say, you can also leave an emoji reaction to let someone know what you think about the note. All fo these are a great way to provide lightweight feedback, as well as capture the discussion in a place where everyone can participate. This is particularly helpful for remote teams that can't always meet at the same time.
Organize and share your content with Notejoy
Once your team gets started collaborating with Notejoy, we also make it easy to organize content so it can easily be found.
Keep it organized with pinned notes
Notejoy makes it easy to organize content for your team with pinned notes. To pin a note, right-click on the note and select Pin. Pinning keeps the note at the top of the notes list, and makes it easy for people to find.
It's often helpful to pin notes that you don't want people to miss. For example, you might want to put together a Getting Started note with information that you want a new team member to read first. Or, you might want to put together a note full of helpful references that link to additional notes that people are always asking for. You can create links between notes just like linking to a website, and make it easier for people to browse to content in the notebook.
Archive to clean up stale content
A challenge that many teams face when they are collaborating together is that often content will go stale. There are lots of reasons why this might happen: a policy will get outdated, a launch plan will no longer be relevant, a vendor list will get overwritten, and many more.
Notejoy solves for this with its archive functionality, where you can archive notes and notebooks. Archiving means that the note or notebook will get locked from future updates, will be clearly marked as archived (and thus no longer relevant), but will contain to be searchable and accessible by search.
Archiving makes it easy to clean up your content without deleting it, in case you need to reference it later. It's a powerful tool to organize content and make it more accessible for other members of your team. We recommend archiving content periodically to make sure that what your team members are seeing is the latest and most up-to-date information.
Tags provide flexible organization
When you need to keep track of and organize notes across notebooks, tags are a useful solution. You can use tags as a way to keep track of things you need to do, like a #todo or #toread. Or, you can use it to keep track of related tasks like #marketinghire or a special #project-alpha. When you create a tag in Notejoy, it shows up for you as well as anyone who has access to tags in their shared list.
Take Notejoy with you
Collaboration isn't just about what goes on inside the product, but also where and how you work with it. It's easy to incorporate Notejoy into your workflow with the help of our powerful apps and integrations.
Download the apps
Notejoy's apps make it easy to take your collaborative notes experience with you, where you ever go. Notejoy's available across browser, desktop, and mobile devices so you and your team can have easy access on the go.
Get started with the apps:
Clip and share content
Notejoy's web clipper makes it easy for you to clip webpages that you want to save or share with others.
When you clip a webpage or file, you can choose between saving a bookmark or a simplified version of the article as a new note. From there, it's easy to comment or @mention to share it with someone else.
Get started with the Notejoy web clipper:
Integrate with Slack, Trello, and more
Many of the team using Notejoy to collaborate are also taking advantage of other tools like Slack and Trello in their productivity workflow. To help enable this, Notejoy is deeply integrated into these apps to help you work better, together.
Explore our integrations:
Want to learn more?