A Look Back at Notejoy's Second Year
I can't believe it's now been two years since we launched Notejoy. And what a productive year it has been! We launched over 48 major releases this year, giving us a cadence of almost one major release per week. I wanted to take a moment to recap the 10 most important releases in case you might have missed any of them.
2019 was the year that dark mode went mainstream thanks largely to Apple embracing it as a system-wide option across MacOS and iOS. And to not disappoint our users, we joined the bandwagon by introducing two distinct dark mode themes. We didn't stop there though: we went on to launch 6 themes in total to ensure you could find just the right look that met your personal tastes and preferences.
We certainly didn't expect dark mode to be that big a deal, but the adoption rate amongst our users was broad and fast and so we were pleasantly surprised with the overall excitement.
We're obsessed with building a killer search experience in Notejoy to help you always be able to find exactly what you are looking for. As part of that obsession, this year we launched Quick Find, an incredibly fast way to jump to exactly what you are looking for in Notejoy. Just hit Cmd+J (Mac) or Ctrl+J (Windows) to activate Quick Find. Then just start typing a few characters for what you are looking for. You'll immediately see results show up that match your query. You can use the up & down arrows to get to the right result and then just press enter to jump directly to it.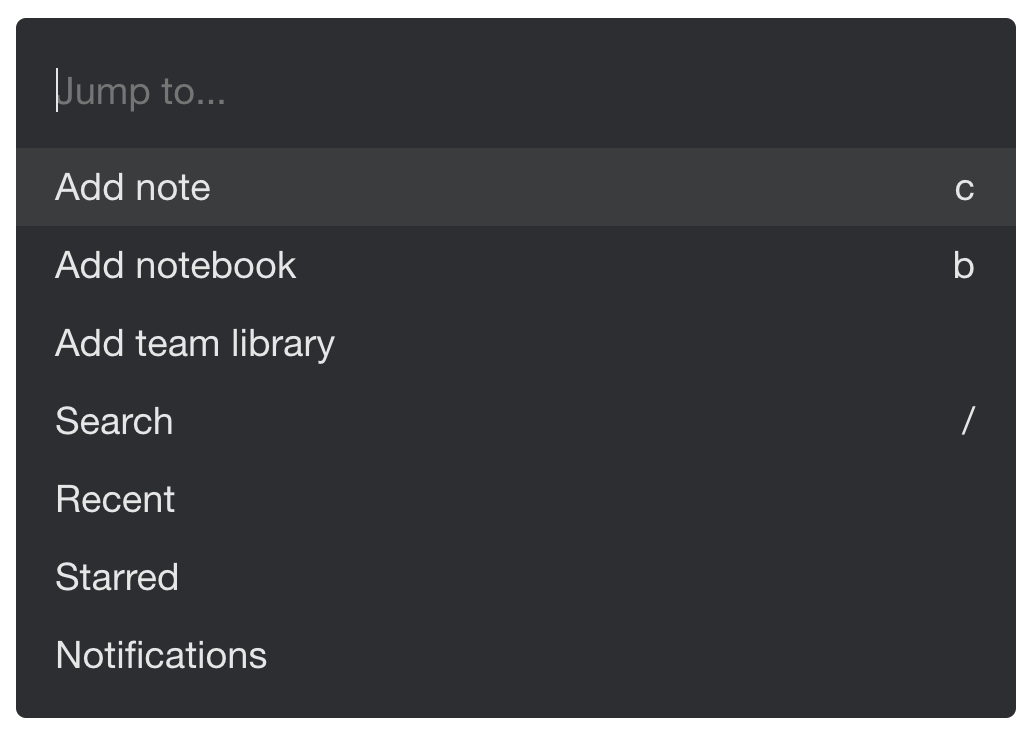 Making it ever easier to capture and get content into Notejoy is so important to our users. So we launched the ability to forward emails into Notejoy to create notes. This is great for saving reference emails, converting conversations into notes, and even jotting down quick thoughts that you want to flush out later.
All you need to do is forward any email to save@to.notejoy.com. As long as you send the email from your registered Notejoy email address, the note will automatically be added to your account. You can also authorize additional email addresses from Email Settings.
We followed up our forwarding email release with a specific Gmail integration to bring together the world's most popular email provider with Notejoy's fantastic notes app. With the Gmail integration, it's never been easier to save your most important emails directly to Notejoy. We've made it incredibly quick to save reference emails, convert conversations into notes, and so much more.
Once installed, you'll see Notejoy appear in your Gmail applications sidebar. Anytime you want to save an email, just click the Notejoy icon and click Save as Note. It's as easy as that!
As we mentioned, we're obsessed with building a killer search experience. To that end we launched the ability to search for text inside the images and documents you attach to notes.
Now when you upload an image to a note, we leverage machine learning and optical character recognition (OCR) technology to find all the text in the image, save it to our search index, and allow you to query for it when searching on Notejoy.
We do the same for documents that you upload or attach to notes: extract all the text from the document, add it to our search index, and make it queryable when you search. This even works great for scanned PDF documents, which we treat as images to extract all the text. We support searching inside PDF files, Microsoft Word files (including both .doc and .docx extensions) as well as Google Docs.
As our users started to rely on Notejoy to be the central repository of all of their information, they sought to protect the various content they added to Notejoy. So we launched password-protected notes, enabling you to secure a note with a custom password to prevent prying eyes.
To add a password to a note, simply select Password Protect from the more actions menu in the top-right corner of a note. Or right-click a note in the notes list and select Password Protect.
Capturing content as effortlessly as possible was a theme for us this year. So we also integrated with your favorite scanner app to allow you to easily scan a document with your phone's camera and save it directly to Notejoy.
To scan documents to Notejoy:
Scan the document using your favorite scanner app
Email the document directly from the scanner app to save@to.notejoy.com
After a few moments, you'll find the scanned document saved to a new note at the top of your Recent view in Notejoy
While we initially focused solely on team collaboration, our users made us realize how we had built such a fantastic personal notes app as well. So at the beginning of the year we launched the Notejoy Solo Plan, bringing the best of Notejoy's productivity functionality to individual users for just $4/month!
The Solo plan is packed with a ton of functionality and we keep adding more and more great stuff to it. So make sure to check it out.
You told us that you wanted to truly customize Notejoy to meet your personal needs & workflows. And so beyond themes, we launched a variety of customization options just for you, including:
Resize Notejoy's sidebar, notes list, and chatter to whatever custom widths make sense for you
Customize Notejoy's font across all notes, picking from over 25 carefully selected fonts
Sort each notebook with a custom alphabetical, last modified, or created date sort that is seen by everyone in the team
Customize what shows up in the Notejoy sidebar and hide everything that you aren't using to clean it up
Notejoy believes in the idea of best-of-breed tools, which means we want to integrate with the very best tools that exist for each and every task instead of re-inventing everything ourselves. We expanded upon our existing set of rich integrations and launched Notejoy's powerful integration with HubSpot CRM, one of the fastest growing CRM solutions. HubSpot and Notejoy work seamlessly together, enabling sales professionals to more efficiently capture, organize, and share their notes, significantly improving the daily productivity of the modern sales team.
With Notejoy's HubSpot integration, you can:
Create and attach notes from HubSpot contacts, companies, and deals
View & edit notes right from HubSpot
Associate a note with a HubSpot contact from Notejoy
View & update HubSpot contact, company, and deal details from Notejoy
What's next?
We're really just getting started at Notejoy and have a deep roadmap of functionality we're going to add to Notejoy in the next year. To learn more, check out our upcoming planned features here. And while you are there, please help shape our roadmap by voting for what you'd like to see added next. We're obsessed with customer feedback and treat every suggestion as valuable insights in helping us co-develop Notejoy together.
Enjoy the holidays and happy new year everyone! See you all again in 2020.
Sachin Rekhi
Founder & CEO, Notejoy