A Look Back at Notejoy's First Year
Today we're excited to celebrate the one year anniversary of launching Notejoy! We can't believe a whole year has already flown by. But what a productive year it's been. We've launched over 60 major releases this year. So we thought we'd take a moment to recap the 15 most important releases in case you missed any of them.
We brought Notejoy to the most popular mobile operating system, completing our suite of apps for Mac, Windows, iOS, Android, and the web.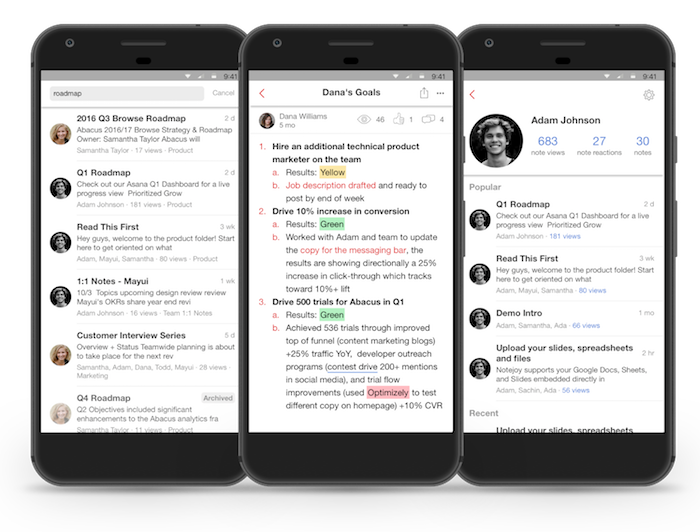 We launched a web clipper to easily save and share anything you see on the web directly to Notejoy.
We added tags to provide another way to organize your notes beyond libraries & notebooks.
We added support for markdown syntax to help keep your hands at the keyboard and as productive as possible.
We've made it easier than ever to share code with your colleagues with code block syntax highlighting.
We rebuilt search from the ground to up make search queries a magnitude faster as well as added search snippets, fuzzy matching, and more.
We added the ability to browse every edit ever made to a note.
We enabled you to attach, create, view, and collaboratively edit Notejoy notes directly from Trello cards.
We empowered you to customize your sidebar to your heart's content by collapsing and re-ordering libraries.
We helped you reduce the clutter in Notejoy be allowing you to archive entire notebooks and libraries in addition to archive notes.
We allow you to customize library permissions to restrict users to only viewing or commenting on notes.
We brought direct playback of video and audio files you attach to notes right within Notejoy.
We helped you ensure your data is never lost with the ability to recover deleted notes.
We enabled you to request access to team libraries when you view notes you don't currently have access to.
We launched a whole slew of updates to mobile to bring the best of Notejoy web & desktop to our mobile apps, including mobile document viewers, mobile tags, mobile archiving, mobile bullet indenting, create libraries and notebooks from mobile, and so much more.
What's next?
Want a closer look at what Notejoy is now capable of? Check out our recently launched Features page to ensure you're aware of everything Notejoy has to offer.
We're just getting started here at Notejoy and there is so much more exciting stuff coming in 2019. Curious what's up next? Check out our planned features here. While you're there, help shape our roadmap by voting for what you'd like to see added next.
Thank you!
Before heading out I wanted to take a moment to thank all of you, our users, for everything you've done to make Notejoy what it is today. Your endless messages, participation in our community, and willingness to get on the phone with us has really been at the heart of building Notejoy into the intuitive and powerful notes platform that it is today. We absolutely love hearing from you, so don't hesitate to reach out whenever you have any thoughts at all to share.
Enjoy the holidays and happy new year! See you all again in 2019.
Sachin Rekhi
Founder & CEO, Notejoy