Notejoy's Trello Power-Up Brings Your Notes & Tasks Together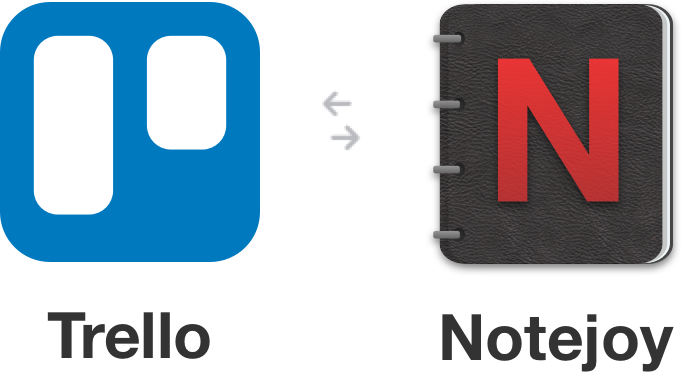 Today we are excited to announce the launch of Notejoy's deep integration with Trello, a popular task management app, to make it completely seamless to keep your notes and tasks in sync!
Both Notejoy and Trello share a love for fast, beautiful, and simple user experiences. So we jumped at the opportunity to bring our apps together to help users be more productive every day.
With Notejoy's Trello integration, you can:
Attach an existing Notejoy note to a Trello card
Create a new Notejoy note from a Trello card
See note details including authors, when it was edited, and more right in Trello
Directly view & collaboratively edit notes right in Trello
How teams can use Notejoy's Trello integration
We built this integration to address a common pain point where teams often need to link their Trello tasks with more details or content. Teams can use this integration to:
Attach blog posts drafts to a Trello board for managing content
Attach product specs to a Trello board for managing a product roadmap
Attach customer feedback notes to a Trello board for onboarding customers
And so much more!
How to get started
Go to the board you want to install the Notejoy Power-Up on Trello
Select Power-Ups from the Board Menu
Search for Notejoy and click Enable
Here's how to take advantage of each benefit of the Trello integration:
Attach a note to a Trello card
Attaching a note to a Trello card makes it easier than ever to keep tasks & their associated notes seamlessly in sync. From a Trello card, press the Notejoy Power-Up and select Attach a Note. You'll then be able to search your notes to find your desired one.
To make sure all Trello board members can access the attached Notejoy note, make sure the note is in a team library and you have given all board members access to the team library.
Create a new note from a Trello card
Sometimes you'll start your workflow with a Trello card. In that case, we've made is super quick to create a new Notejoy note where you can keep all the task details. Press the Notejoy Power-Up button on the Trello Card and select Create a Note. We'll even automatically suggest a name for you based on the card name.
See note details right in Trello
Once you've attached a note to a Trello card, whoever comes to the Trello card will always see the latest details of the note, including note authors, when it was last modified, it's title, and description.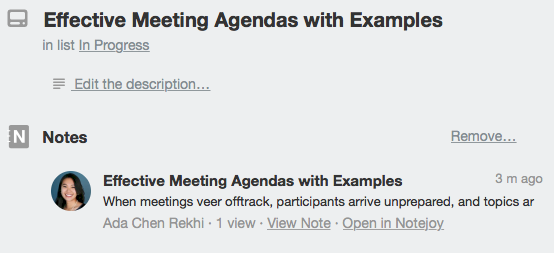 View & collaboratively edit notes in Trello
When you click on an attached note on a Trello card, you'll be able to see the full note right inside of Trello. You'll even be able to directly edit the note from Trello, including collaborating with other editors regardless of where they may be editing (Trello, Notejoy's web, desktop, or mobile apps).
If you need to go deeper, like comment or react to a note, you can click the Open in Notejoy link to be deep-linked to the note in Notejoy.
Take your notes everywhere with Notejoy's desktop & mobile apps
Trello users can now take advantage of the full power of Notejoy, including fast and beautiful apps across web, desktop, and mobile that bring your notes everywhere you go.
In addition real-time editing, comments, @mentions, reactions, and more make it the ideal platform for sharing notes with your entire team.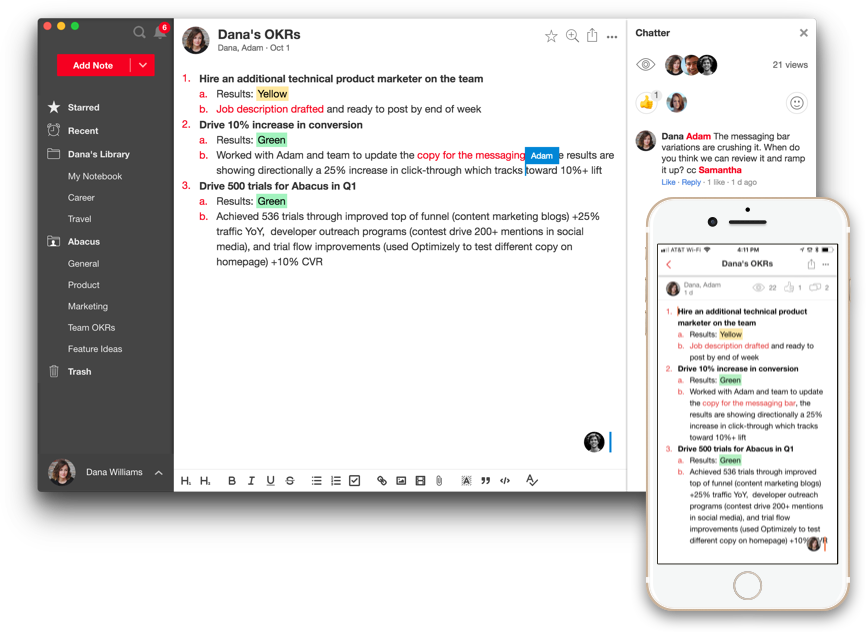 How to get started
Go to the board you want to install the Notejoy Power-Up on Trello
Select Power-Ups from the Board Menu
Search for Notejoy and click Enable